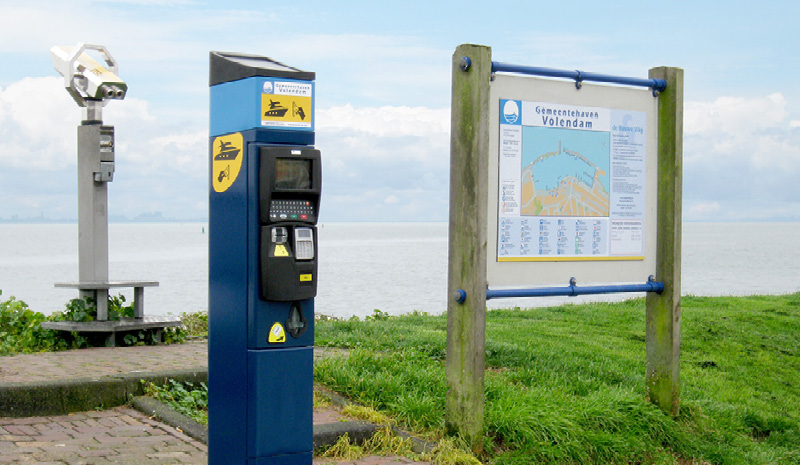 TMC gaat de gemeente Edam-Volendam werk uit handen nemen door het onderhoud, beheer en de servicedesk van de 3 TMC betaalautomaten over te nemen; beide havenbetaalautomaten in de Volendamse jachthaven en de parkeerautomaat op een touringcarterrein. De automaten krijgen de nodige aandacht, de gemeente de betreffende rapportages.
In de jachthaven van Volendam staan al enige jaren 2 havenbetaalautomaten. Passanten die een of meerdere dagen met hun boot in de jachthaven willen verblijven, betalen hiermee hun liggeld. De gemeente heeft ook een parkeerautomaat geplaatst op een touringcarterrein in het centrum om daarmee de chauffeurs te bewegen hun bus buiten het centrum te parkeren.
TMC pakt op
Het periodieke onderhoud en alles wat daar bij komt kijken wordt vanaf nu door TMC opgepakt. Daarnaast zijn onze monteurs spreekwoordelijk altijd in de buurt om in geval van verstoringen dit zo snel mogelijk op te lossen. De gemeente heeft er geen omkijken meer naar.
Hulp aan de gebruiker
Maar we gaan nog verder. De automaten zijn voorzien van ons telefoonnummer. In geval van vragen of verstoringen bellen de gebruikers direct met ons. Totale ontzorging van de gemeente.
Op de hoogte blijven
De gemeente geeft het werk dan wel uit handen, toch blijft ze graag op de hoogte van het reilen en zeilen. Elke maand ontvangt de gemeente een uitgebreide maandrapportage met daarin de huidige status, de prestaties van de afgelopen maand en een overzicht van de gebruikersvragen. Zo weet de gemeente precies wat er gaande is om beleid en sturing optimaal te houden.
Back to overview

...